Reach a vast, untapped universe of creditworthy consumers
Financial institutions must continuously strive to make better lending decisions and identify new growth opportunities. By augmenting static consumer credit scores with enriched data, lenders can significantly increase their universe of Prime and Super Prime customers, ensuring better lending decisions, retention of low-risk customers and the ability to approve many more good consumers.

Read our new Insight Guide: Score Savvy, to learn how dynamic credit scores can help you say yes – and more often – to the right consumers. Also, please enjoy the supplemental pieces below that help explain the benefits of augmenting traditional credit scores with enhanced data.
Infographic
Video
Watch credit expert Charlie Wise explain the new scores
Watch now
How To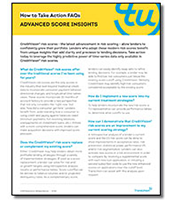 Understand how easy it is to bring consumers into full view
Download now